The Banquet Hall, also known as the State Dining Room, hosts a wealth of beautiful detail. This room which is 104 feet long, 34 feet wide and 35 feet high overlooks the Amrit Udyaan on one side. Burmese teak paneling decorates the walls of the Banquet Hall while the floors are patterned in grey Kota stone and white Makrana marble. One can notice the silent bell motifs, carved in wood, over the fluted projecting columns, the same as are placed above the Tuscan pillars of the Forecourt.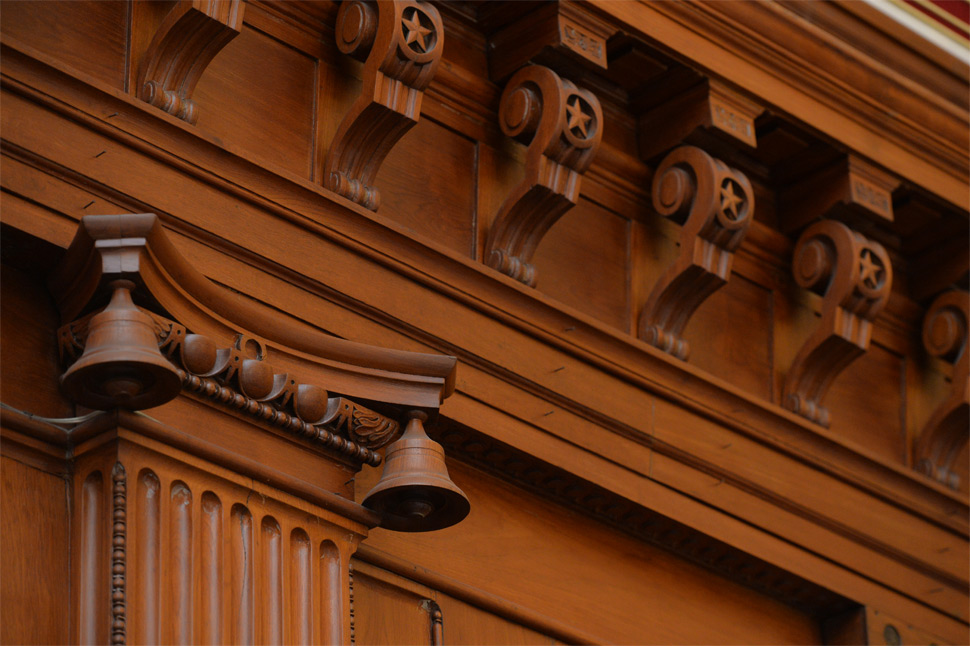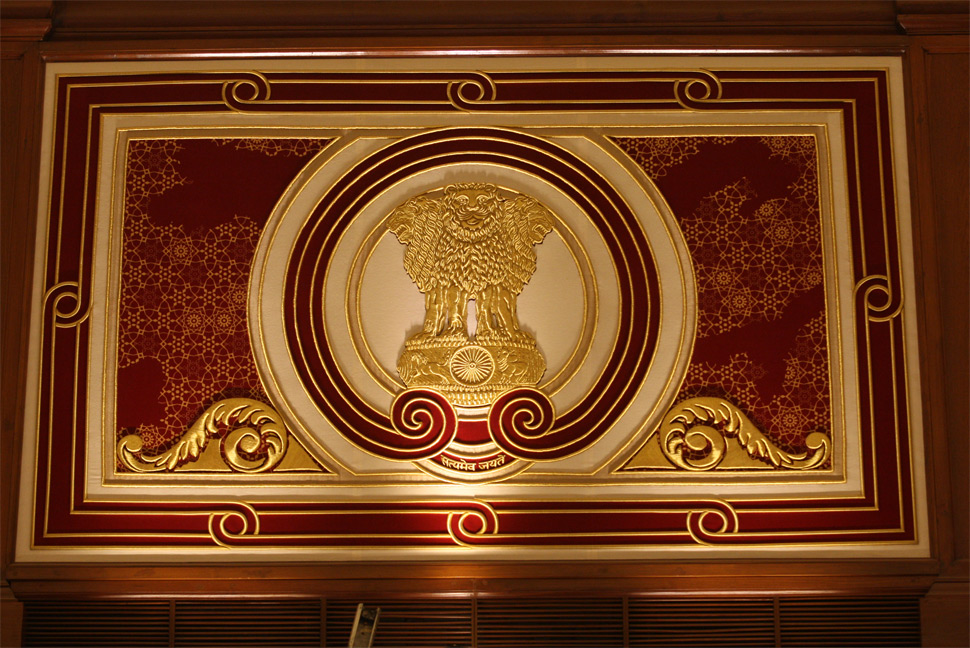 These twenty eight pilasters are thirteen feet tall and are made of "single piece Burmese teak logs." Above the wainscoting is a beautiful display of intricate zardozi panels, crafted with gold and silver threads. However, they are a recent addition to the Banquet Hall, as earlier the walls exhibited a collection of medieval arms. The height of the room is offset by the four tall chandeliers that illuminate the whole room.
Oil on canvas life size paintings of Former Indian Presidents Dr. Rajendra Prasad, Dr. Sarvepalli Radhakrishnan, Dr. Zakir Husain, V.V. Giri, Fakhruddin Ali Ahmed, Sanjeeva Reddy, Giani Zail Singh, R Venkataraman, Dr Shankar Dayal Sharma and K R Narayanan grace the walls of the Banquet Hall. These paintings are embellished with gold leaf frames. Placed at the southern end of the Banquet Hall is a portrait of Mahatma Gandhi.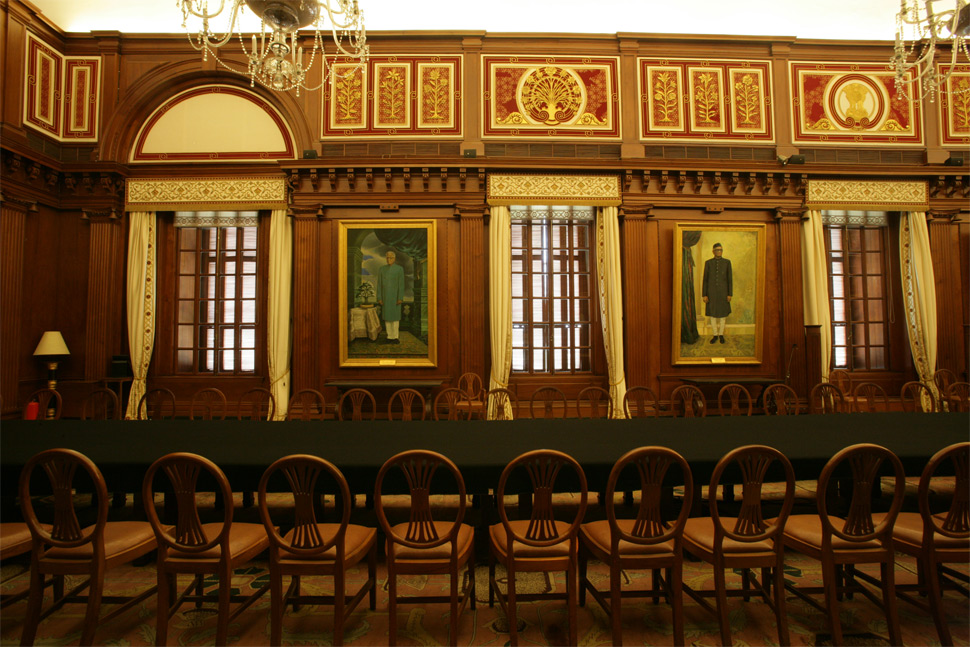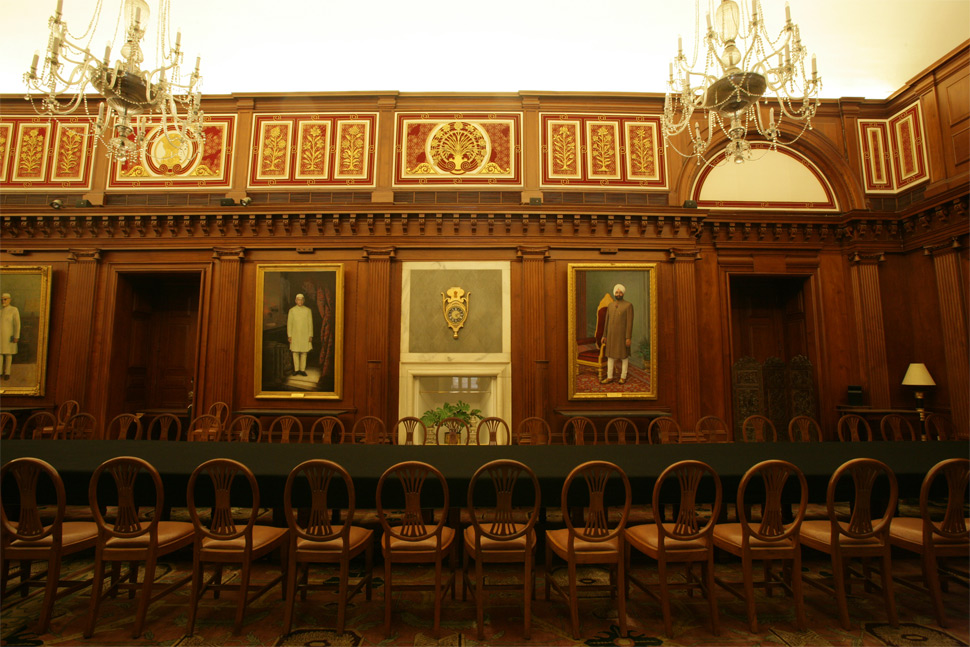 The Banquet Hall of Rashtrapati Bhavan can seat up to 104 people at one time. It is used by Presidents to host banquets for their visiting counterparts. Earlier the Banquet Hall was also used by the Prime Minister to host banquets for other Heads of Government. That practice has since been discontinued with the venue for such engagements being shifted to Hyderabad House in the 1980s. A Band Gallery is situated on a mezzanine floor at the southern end. This gallery, earlier known as the Musicians' Gallery is used for playing live music during banquets. Due to the high walls of this gallery, the musicians cannot be seen.
Another noteworthy detail of the Banquet Hall lies in the usage of three discreet lights. The Head Butler, who stands at the southern end of the table during banquets overseeing the preparations and serving, is the controller of these lights, which are placed high on the teak panels. While the blue light indicates the meals to be brought in at the Banquet Hall, green light is used to indicate the start of service and red is used as an indication of clearing the plates after every course. It is a meticulous task which is carried out with utmost precision and coordination by the Head Butler of Rashtrapati Bhavan and his efficient team. The identification of a vegetarian diner from a non-vegetarian one is also done thoughtfully with elegance by placing a small red rose vase in front of the vegetarian diner.