The North Drawing Room (NDR) is one the formal rooms of Rashtrapati Bhavan where the Indian President receives the Visiting Heads of State. Located near the Durbar Hall of Rashtrapati Bhavan, this tastefully done room with grand Burmese teak paneling on the walls and beautiful wooden furniture provides an appropriate setting for the meetings of Heads of State. It is mostly teak that has been used in Rashtrapati Bhavan, however, for decorative furniture, "padauk, shisham, ainee, blackwood, poon, koko, walnut and ebony" were also used. The furniture in this room, including the chairs, was designed by Edwin Lutyens himself. Fond of circular patterns, his choices are reflected in the circular design on the chairs as well.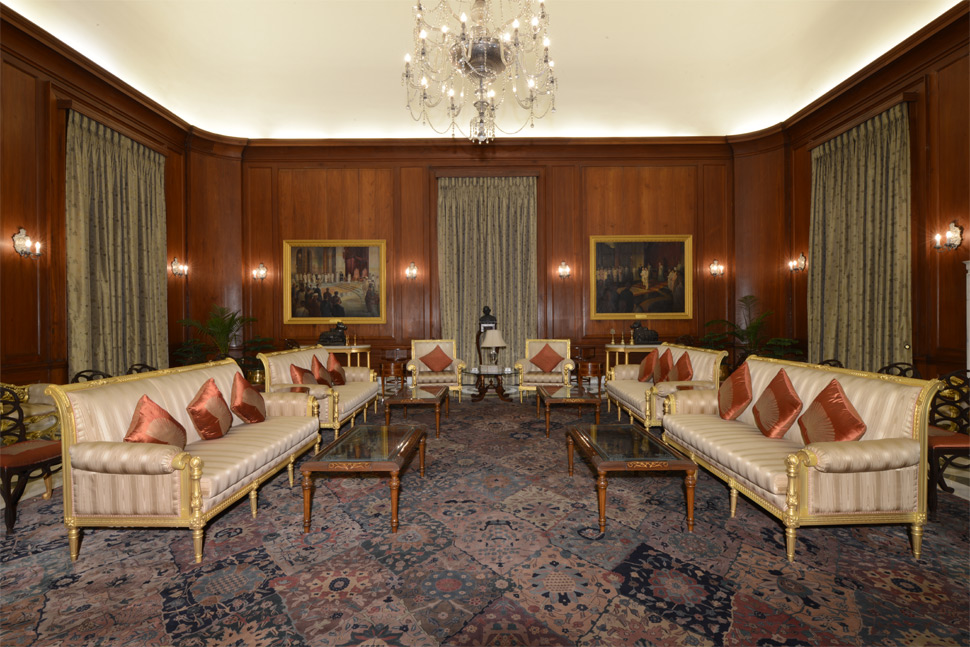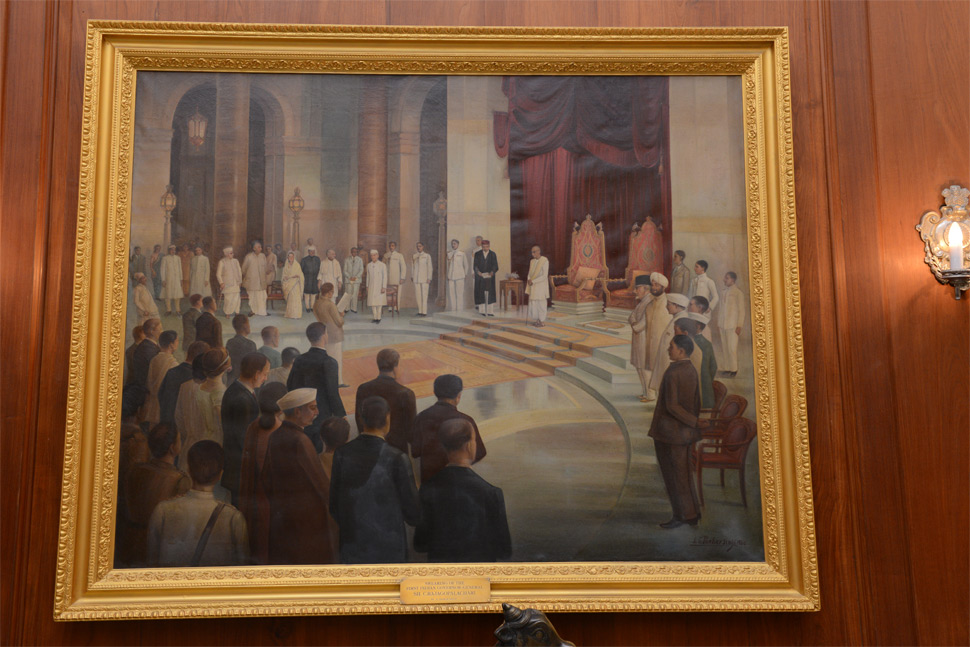 Gandhiji's bust is also displayed in this room. This is also, practically the most visible room of Rashtrapati Bhavan as press correspondents are a part of the meetings between the Heads of State, and the NDR is often highlighted in news.
Important oil on canvas paintings that are displayed on the teak paneled walls of the NDR are Transfer of Power Night, Pandit Jawahar Lal Nehru Taking Oath as 1st Prime Minister and Swearing of the First Indian Governor- General Sh. C. Rajagopalachari. The former, made by S.N Ghoshal, shows the grand swearing-in ceremony of the Indian Prime Minister Pandit Jawaharlal Nehru on India's Independence Day, August 15, 1947 at the Durbar Hall of Rashtrapati Bhavan., Dr. Rajendra Prasad, Vallabhbhai Patel, Maulana Azad, the Mountbattens and other leaders are part of the painting. The other painting, made by S. Thakur Singh portrays the swearing in ceremony of first Indian Governor-General as well as the last person to hold that title. The oil on canvas painting shows Dr. Rajendra Prasad, Maulana Azad, Sardar Baldev Singh, Dr. S. Radhakrishnan among others at Rashtrapati Bhavan's Durbar Hall.
The North Drawing Room is separated from its twin, the South Drawing Room by the Long Drawing Room. Similar in shape and appearance, with teak paneled walls, the South Drawing Room is mostly used for meetings by dignitaries.