Ashokan Pillars are the most celebrated example of Mauryan Art. Rashtrapati Bhavan houses the magnificent third century B.C. sandstone capital of the Ashokan Pillar known as the Rampurva Bull. It gets the name from the site of its discovery, Rampurva in Bihar. The Rampurva Bull is mounted on a pedestal between the central pillars at the Forecourt entrance of the Rashtrapati Bhavan.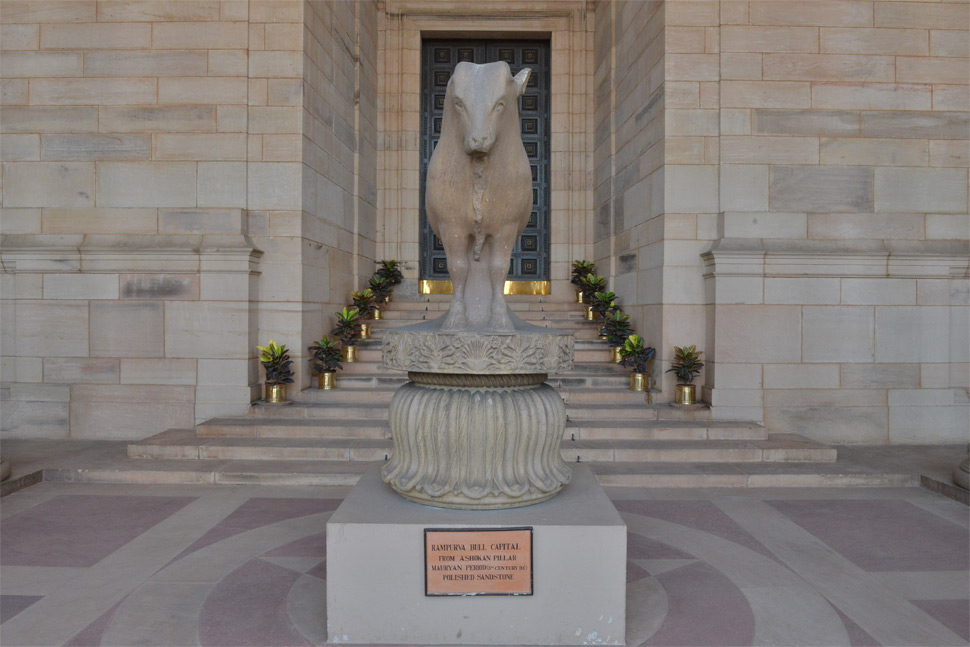 The Rampurva Bull is noted for its delicately sculpted model demonstrating superior representation of soft flesh, sensitive nostrils, alert ears and strong legs. It is a mixture of Indian and Persian elements. Whereas the motifs on the base, atop the inverted lotus, the rosette, palmette and the acanthus ornaments are not Indian features, the bull capital is a masterpiece of Indian craftsmanship. The Rampurva Bull sculpture is said to have a velvet touch.
Weighing up to five tonnes, this invaluable artifact became a part of Rashtrapati Bhavan in the year 1948 after it came back from Burlington House, London where it had gone to take part in a grand exhibition of Indian art. On its return, along with other artifacts, the Rampurva Bull was kept for display at the Rashtrapati Bhavan. This was at the initiative of Dr. Rajendra Prasad and Pandit Nehru who took keen interest in this priceless piece of history and decided that it would remain at the Rashtrapati Bhavan instead of being shifted to the newly constructed National Museum building which had come up at Janpath in the year 1960.
While deciding for a perfect location to display the Bull, many suggestions were made. It was the wish of Indian President and Prime Minister that The Rampurva Bull be placed at a "conspicuous location" at the Rashtrapati Bhavan. The two preferred locations were the Durbar Hall entrance or the Forecourt under a specially erected canopy to protect the Bull from damage from the elements. It was also suggested that the Bull may be shifted to the Central Asian Antiquities Museum.
After many rounds of discussion, it was finally settled that The Rampurva Bull should be displayed at the front portion of the veranda, immediately between the two central pillars. This site would give protection from weathering and also provide a central place for exhibit to the public at large. It was also decided at that time that the Bull would rest on a pedestal of height not more than 2 feet.